On 18 November 2021, the Environment Agency (EA) and Ofwat announced separate major investigations into possible unauthorised discharges at thousands of wastewater treatment works.
The Environment Agency is now investigating more than 2,200 wastewater treatment works (WWTW) that discharge into English waters. This relates to all water and sewage companies.
The Environment Agency's initial assessment indicates that there may have been widespread and serious non-compliance with the relevant regulations by all water and sewerage companies.
'Unprecedented investigation'
It is the EA's largest ever criminal regulatory investigation and they are seeking to determine the extent of any non-compliance of environmental permit conditions related to flows treated and discharged from wastewater treatment works into English waters.
Ofwat are undertaking an unprecedented investigation into all wastewater companies in England and Wales, looking into issues with how companies are complying with their legal duties to maintain, operate and manage their wastewater treatment works and the adequacy of their governance and compliance processes on the performance of those works.
Ofwat wrote to customers last year after Ofwat opened our investigation into how all wastewater companies in England and Wales manage their sewage treatment works. One year on, Ofwat Chief Executive David Black has written to customers to update them on the progress made. An infographic of Ofwat's progress since November 2021 is below.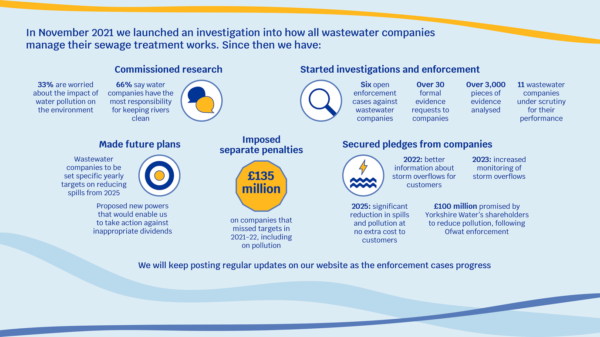 Investigative process
EA investigators have been working through hundreds of documents received from the water companies and have so far analysed over 2 billion data points as part of our investigation.
This is a major criminal investigation and, as the EA said, 'it is important that we comply with certain legal obligations and requirements. As with all criminal investigations, such as those taken by the police, the Serious Fraud Office, and others, we need to appropriately obtain and secure evidence which is relevant and reliable to ensure that we deliver a comprehensive investigation. It takes time and care to ensure that our investigation is robust so that any potential prosecutions instigated by the EA are fair, proportionate, and have the maximum chance of success. 
We know how important this investigation is and we are committed to getting it right.'
What next?
When the Environment Agency completes their investigation, they will consider all the options available under their enforcement and sanctions policy. As with all criminal investigations, they need to obtain and secure evidence to make sure they can prove their case beyond reasonable doubt if they begin court proceedings.
Resources:
An update on the investigation by the Environment Agency can be read here.
An update from Ofwat can be found here.
The letter from Ofwat Chief Executive David Black to customers can be read here.