Inspiring webinar with Prof Nicola Beaumont from Plymouth Marine Laboratory on interdisciplinary working. In the full report Demystifying Interdisciplinary Working (in Valuing Nature), Prof Beaumont has brought together experiences, suggestions, and top tips from her own expertise in this area, the CoastWEB project, as well as from a wide range of contributors and collaborators.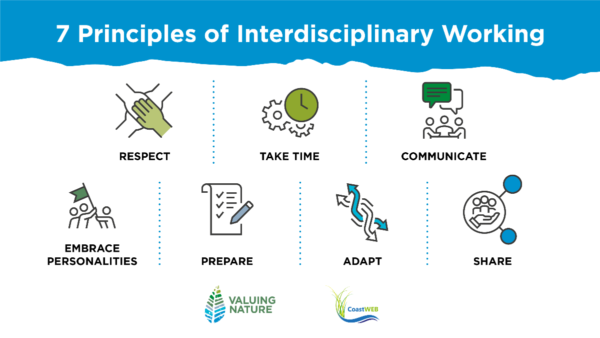 Abstract
In this time of unprecedented change, to be successful in managing and finding solutions to the complex issues of the day, from pandemics, to climate change, to biodiversity loss, transformative approaches are needed. Thinking in individual disciplinary terms is as crucial as ever in order to progress specialist approaches. However, to address the complex technical, societal and environmental challenges we also need to break down the disciplinary silos, think outside the usual boxes, and bring a broad range of approaches together to best understand and provide solutions to these challenges.
Whilst interdisciplinary working is universally accepted as challenging the resultant benefits are equally acknowledged as substantial. For academics it can be stimulating and lead to ground breaking collaborations; for user groups it can radically improve the relevance of answers provided to difficult questions; and for research commissioners it can drive the development of impactful proposals and projects. The Valuing of Nature is notable in requiring research that brings together a variety of disciplines. This need was recognised by the Valuing Nature Programme (VNP) and for the last 5 years a host of interdisciplinary endeavours have been undertaken including projects, workshops, conferences and secondments.
This webinar shared the Valuing Nature Programme experience, including the why, what, and how of interdisciplinary working, exploring the benefits, frustrations, barriers, solutions and challenges.  Specific examples were detailed including unique research findings, interdisciplinary processes used, lessons learned, top tips and recommendations or the future.
Whilst a range of VNP activities were drawn upon, the VNP funded CoastWEB project provided a focus for this seminar, as a project which brought together 8 different disciplines, coupled with a varied stakeholder network, to research the values and wellbeing benefits of saltmarshes, with an aim of providing tangible and useful outcomes.
Read more here.