Greenpeace UK has placed 18 limestone boulders on the seabed in the South West Deeps (East) Marine Conservation Zone with the aim of disrupting industrial fishing.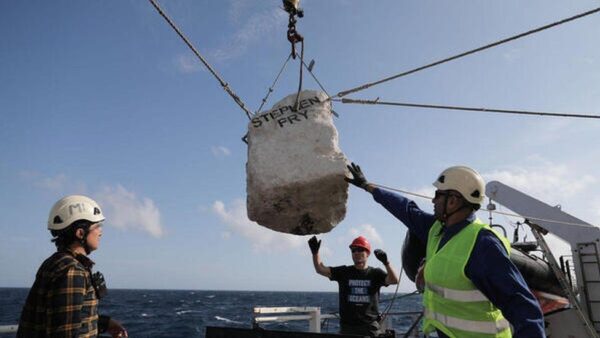 The environmental group dropped the boulders into the ocean about 200 miles (322km) off Cornwall from its ship Arctic Sunrise.  It aims to create a barrier making it hard for deep sea trawlers to operate in the protected area, the BBC reported. (Image credit: Kristian Buus/Greenpeace).
Celebrities including Simon Pegg, Stephen Fry, Daniel Lismore and Hugh Fearnley Whittingstall have said they support the rocks being placed in the water. Some politicians have too, including conservative MPs Henry Smith, Sir Peter Bottomley and the Green Party's Caroline Lucas.
Greenpeace said the limestone boulders, weighing between 500kg (78st 10lb) and 1,400kg (220st 6lb), "make it impossible for bottom-towed fishing gear to be dragged along the seabed".  Will McCallum, head of oceans at Greenpeace UK, said: "Right now, there's an industrial fishing frenzy happening in UK waters, and what's our government doing about it? Greenpeace UK has created this underwater boulder barrier as a last resort to protect the oceans." 
The Marine Management Organisation (MMO) said it was "disappointed", adding the move was not justified and "potentially illegal". 
Artists created a giant ammonite sculpture – inspired by the fossil often found in Portland limestone – out of one of the boulders, which was also placed on the seabed.
Greenpeace said the 4,600-square-kilometre (1,776-square-mile) South West Deeps is "one of the most heavily fished so-called Marine Protected Areas (MPAs) in the UK". It cited figures from the Global Fishing Watch monitoring agency that said that 110 vessels – more than half of them from France – fished for 18,928 hours in the area in the 18 months to July. Of that, industrial vessels with bottom-towed fishing gear spent 3,376 hours fishing in the zone.
Neil Whitney, a fisherman from East Sussex, said "Industrial fishing, like fly-shooters [vessels which tow lead-weighted ropes along the seabed] and super-trawlers [trawlers more than 100 metres long or 328 feet], are killing our marine environment, and small-scale UK fishermen like me are losing out big time". He said it was "absurd" that bottom-trawling was legal in MPAs.
Greenpeace UK have published a piece which states '5 reasons why Greenpeace built another underwater boulder barrier' and their news release can be read here.
On 15th August Greenpeace announced that it would be placing the boulders in the area and at that time the MMO responded by saying it had already banned bottom towed gear in four protected areas, and had invited the campaigning group to a workshop to discuss further plans.The action, which took place on Thursday 1st September, prompted a response from the MMO. The organisation said: "as England's marine regulator, we are very disappointed that Greenpeace has chosen to take this action to drop boulders to form a barrier as we don't believe it is justified or will help protect our marine environment.
It is also a requirement under the Marine and Coastal Access Act that any deposit of construction below high water is required to have a Marine Licence. Greenpeace do not hold, nor have they applied for one and as such their activity is potentially illegal.
As unlicensed activity has now taken place today (Thurs 1 Sept), MMO has launched a formal investigation in accordance with its regulatory function around marine licensing enforcement and is gathering evidence before considering its next response."
The full statement from the MMO can be read here.