The DEFRA's Consultation on the Government's Storm Overflows Discharge Reduction Plan closed on 12 May. The deadline for responses to the DEFRA Consultation on Environmental Targets has been extended to 27 June.
DEFRA is currently consulting on proposals for a series of legally-binding, long-term environmental targets in England. In accordance with the Environment Act 2021 (the "Act"), the Secretary of State must set at least one long-term target relating to air quality, water, biodiversity, resource efficiency and waste reduction, particulate matter and species abundance.
Originally, the consultation was intended to run until 11 May 2022. Although the consultation was launched in mid-March, until recently DEFRA had failed to publish the evidential basis for the targets proposed. Following publication of the impact assessment reports and the detailed evidence reports, the consultation will instead close on 27 June 2022.
Responses may be submitted online here. Subject to the consultation outcome, relevant statutory instruments containing the targets are required to be laid before parliament by 31 October 2022, coming into force immediately.
Headlines from the Waterwise response below: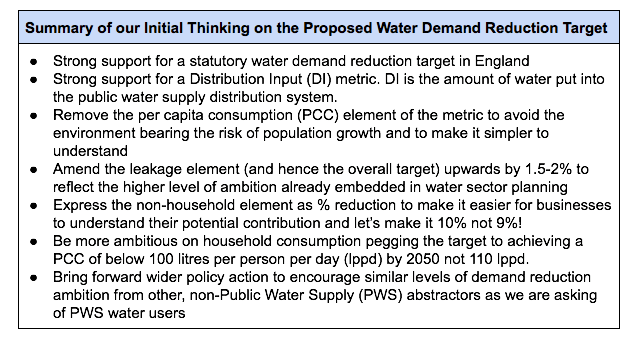 The Water Conservators responses to the recent Defra consultations and position statements are here. Key points include:
Support the intention that water management practices need to evolve to further protect and enhance the environment and better meet public expectations, whilst also responding to other factors including pressures arising from climate change and the need for more homes. It is also mindful that this is an additional cost to water service customers at a time of economic hardship.
Need to better integrate proposals with other relevant initiatives and policies.
Need for a local approach to target setting, supported by appropriate cost benefit appraisal.
Government itself must act beyond setting targets for water companies, for example, in taking such steps as will change behaviour in society, and making sure that legislation and guidance on several matters such as planning, streetworks, charging systems for water services, and so on, are fit for purpose.