FREE LUNCH & LEARN for the Ocean & Water Community:
Reduce Stress + Restore Calm – 23 June 2023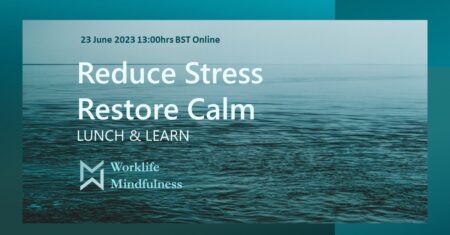 Want to feel calm and in control when things become pressured?
Join this virtual FREE lunch & learn
Friday 23 June 2023       13:00hrs Online
In just 30 minutes, you'll learn a simple meditation technique proven to switch the autonomic nervous system out of fight or flight and into rest and digest.
Said to be the only meditation you will ever need, this easy practice encourages the body to send chemical and brain signals to tell the body to relax.
The session is in three parts:
The main part is the meditation practice (15 minutes).
Ahead of that there is some theory. Here you will learn why the stress response switches on, how it impacts the body and what you can do to dial it down.
There will be time at the end for questions and the opportunity to share your experience (if you wish to).
Practice this meditation for just 10 minutes to feel the benefits, promote health and healing.
About the Trainer
Tracey Hewett is a wellbeing coach and trainer who helps busy professionals work with wellness. She worked in the marine sector for two decades before moving into the field of employee wellbeing specialising in stress reduction and burnout recovery.  She says her mission is to change the way we think about self-care and encourages everyone to put themselves at the top of their to-do list. She works with both individuals and organisations. Clients include Associated British Ports, BUPA and Clyde & Co.