We have some exciting news – after a 3-year break due to Covid, we will be delivering our 'Best Practice Stakeholder Participation' course in-person in July 2023! It will take place over three days (18th-20th July) in the Brook Agricultural Museum, near our office in the Kent countryside.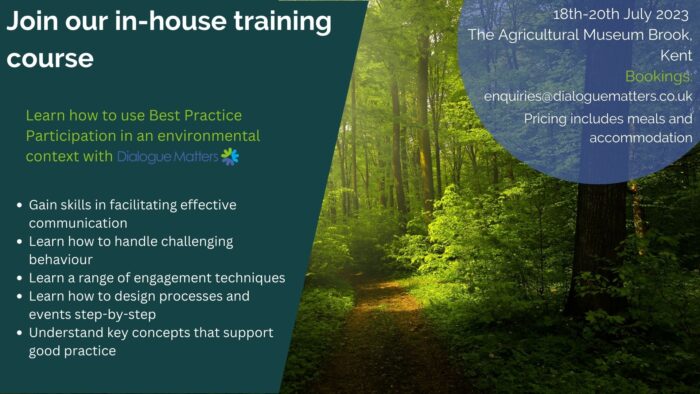 In this course, we share over 20-years' worth of experience and bring you up to speed on the cutting-edge methods and techniques for designing and facilitating stakeholder participation in an environment context. The course factors in our learning from running online Consensus Building dialogue and our recent work on inclusive engagement. New knowledge, new techniques, and new opportunities!
During the course you will:
Gain skills in facilitating effective communication
Learn how to handle challenging behaviour
Learn a range of engagement techniques
Learn step-by-step ways to design processes and workshops
Understand the principles and key concepts of best practice stakeholder participation
For more information and to book your place, please visit our website and download the course flyer and booking form: https://dialoguematters.co.uk/online-booking/. There are pricing options available for residential and non-residential attendees.
Alternatively, you can email training@dialoguematters.co.uk to find out more.
We recommend you do this as soon as possible, because spaces are limited and fill up fast!