Record number of plastic nurdles found on beaches as environmental groups call for tougher laws. A survey has now found a record number on beaches around the world and campaigners want new laws in place to help reduce spillages.
Nurdles are tiny pellets of plastic used by industry to produce nearly all of our plastic products but factory and cargo spillages mean many escape into the environment and end up in the sea.
They can have devastating consequences for wildlife and can soak up chemical pollutants before releasing toxins into the creatures that eat them.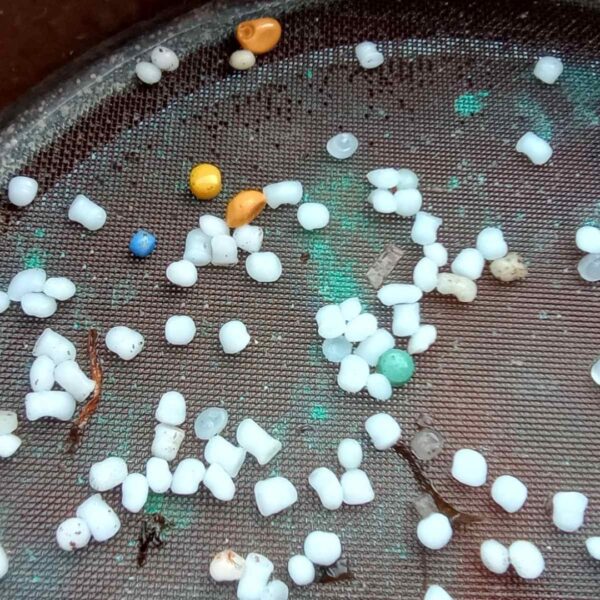 This year's Great Global Nurdle Hunt, held by environmental charity FIDRA, found a record number of nurdles on beaches around the world. Hunts took place in 317 sites across 23 countries and they were found in 90% of locations (photo: Fidra). The only country where no nurdles were found was Indonesia.
Fidra is working with Fauna and Flora International (FFI) to urge the International Maritime Organisation to implement legislation to formally class nurdles as marine pollutants. This would change the way they are handled and transported.
Tanya Cox, senior technical specialist at Fauna and Flora International, told Sky News they need to be recognised as pollutants due to their "pervasive polluting nature".
"At the moment pellets are not classified in any way for movement by sea," said Ms Cox.
"We need to see nurdles classified formally as marine pollutants so that they are packaged more stringently, they're labelled more clearly and the presence of pellets on ships is communicated to the operators so they can be stowed below deck in more safe and appropriate manner.
"If we don't see it happening, I think it's really a case of saying time is running out."
The full story from Sky News can be read here and FFI's dedicated pages can be found here.