A dozen companies are responsible for 70% of the branded packaging pollution found on UK beaches and the environment, charity Surfers Against Sewage has said.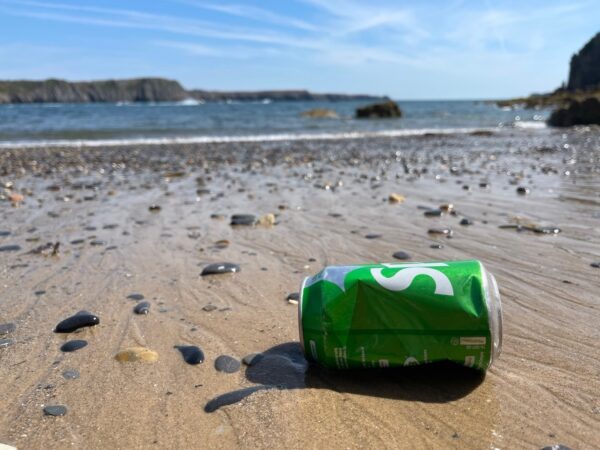 Almost 4,000 citizen science volunteers across the UK collected litter along 13,000 miles of coasts, countryside, streets, rivers and green spaces over the past 12 months, producing data for the annual report into packaging pollution by the ocean conservation charity.
As covered in the London Evening Standard, the report found that 12 companies, led by Coca-Cola, PepsiCo and McDonalds and including other major drinks and snack brand companies, are responsible for most of the packaging carrying branding.
It also found that nearly half of the reported packaging would be covered by an "all-in" deposit return scheme. This would levy a charge that would be paid back to customers when they returned drinks containers for recycling.
Surfers Against Sewage (SAS) is calling on the Government to introduce an all-in deposit return scheme covering drinks containers of all sizes and materials, not just "on-the-go" smaller plastic bottles and cans.
The charity also insists that companies should take responsibility for harmful pollution and the entire lifecycle of their products, reduce their packaging, and adopt "circular" business models that reuse materials rather than letting them go to waste.
Hugo Tagholm, chief executive of Surfers Against Sewage, said: "Year after year, our citizen science brand audit reveals the same huge companies are responsible for the packaging pollution choking our environment. Legislation such as an 'all-in' deposit scheme needs to be introduced urgently and governments must hold these companies to account."
A Coca-Cola spokesperson said: "We share the goal of eliminating plastic waste from the environment and acknowledge that The Coca-Cola Company has a responsibility to help solve this issue. It's disappointing to see any packaging being littered and that's why we fully support the introduction of a well-designed deposit return scheme, which we know from results in other countries will encourage people to recycle, rather than litter or throw away."
The news piece on the SAS brand audit can be read here, a story in Oceanographic here and the SAS press release here. The full 'Brand Audit' information and dedicated website can be found at this link.
The UK Government consulted on the introduction of a deposit return scheme in England, Wales and Northern Ireland in March 2021. Scotland will be the first of the four nations to launch a DRS which is due to start on 16 August 2023.
The UK government is yet to publish its response to a consultation on the plan for England, amid increasing fears of a chaotic approach by the different UK nations. A poll of 2,000 adults found households were already struggling to understand existing recycling schemes and were confused by the deposit return scheme concept.
There are examples in other countries where the importance of a consistent, understandable and simple system across internal boundaries has shown to be important for delivery of an efficient and workable deposit return scheme. Published research has pointed out that sub-national policies do not inhibit progress to reducing plastic in the ocean but are not ideal, and that a comprehensive and harmonised container deposit return scheme across internal territorial borders is optimal. The research in Marine Pollution Bulletin can be found here.