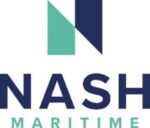 Marine Analyst / Consultant
Location: Southampton, UK or remote/agile by agreement
Full time, permanent (part time / job share / flexible working applications will be considered)
Overview
NASH Maritime is looking for a capable and enthusiastic marine analyst / consultant with 2+ years' post-graduate experience, demonstrating strong numerate, analytical, GIS, and/or mathematical capability. You'll be joining our team at an exciting time, leading and delivering work on some of the world's most iconic maritime projects.
We are a leading shipping and navigation consultancy and technology company working across maritime energy (including offshore renewables), transport and infrastructure sectors.
Our mission is to help our clients understand, assess and mitigate maritime risk and impacts to ensure sustainable use and development of the maritime environment.
We do this with our team of dedicated and experienced maritime professionals (including engineers, scientists and mariners) and drive the use of technology in our work to answer complex problems and develop operational solutions. Our work is underpinned by collaborative working environments within our team and with our clients.
We've got ambitious and sustainable growth plans founded on an exceptionally strong work pipeline and the expertise of some of the industry's most experienced talent.
Role details
This role is hugely important in our ongoing growth and success, and fundamental to our mission in supporting the world's transition to net zero.
The role will primarily involve analysing information using proprietary software including GIS applications, risk and safety modelling using specialist tools and software, risk assessment and report writing. Typical role requirements may involve:
Analysing and interpreting maritime vessel traffic data to characterise shipping traffic
Interfacing with environmental and engineering decision-makers to determine potential navigation impacts
Use of a combination of QGIS and in-house geoprocessing toolkits to gain insights into vessel traffic patterns, trends and extract key metrics
Preparing for and contributing to stakeholder engagement meetings
Authoring report chapters and developing GIS figures and data tables/charts
Providing content and pulling together information in support of tender submissions
Supporting wider NASH business development activities
You will be working on analytical tasks independently alongside our team of mariners, harbour masters and technical specialists to bring together the skills and capabilities of the wider team.
The role will initially be shaped to exploit the areas in which you have most experience and skills, and gradually build out to develop your expertise across our services and sectors.  Appropriate training and development support will be provided as part of a tailored career progression plan, and we will support you towards membership and chartered status of a relevant professional institution should that be of interest.
We're looking for
The successful candidate must have:
A demonstrable interest in the maritime industry – e.g. experience in shipping / ports / offshore renewable industry, sea faring background / interest, recreational sailor, etc.
BSc (Hons) degree in a numerate subject e.g. science, maths, geography or engineering
Ability to apply your technical knowledge to analyse problems and find innovative solutions
Experience of handling and analysing data
Computer literacy and competency with MS office suite
Excellent English language writing and oral communication skills
Strong planning and organisational skills
Ability to work independently with initiative and as part of a team
Enthusiastic with drive, attitude and willingness to learn
The successful candidate may also have:
Master's degree or higher
Understanding and knowledge of statistical analysis
An interest or experience in coding (e.g. Python)
Competency with GIS software – e.g. QGIS (or ESRI)
You can expect from us
A great package with a salary of £25,000-£33,000 (depending on qualifications/experience) including a generous pension scheme
Freedom, autonomy and responsibility within a flat organisation with quick decision making
Mentorship, training and support in developing your career and learning
Work/life balance and support in flexible working
Fun! We're a sociable bunch and go out for drinks, food, bike rides and sometimes on the water (when it's sunny / warm!)
Logistics/Application
To apply – please send your CV and a 1-page cover letter to careers@nashmaritime.com including 3 areas where you think you can help deliver our mission
The hiring process will involve an initial conversation followed by personality profiling and an interview with the senior team
The closing date for this application round is Mon-1-August-2022 although early applications are encouraged
If you'd like an informal discussion about the opportunity please email Richard Marlow (r.marlow@nashmaritime.com), call +44(0) 2380 381 681 or use Linkedin to reach out to any of our team to find out about their experiences
Click here to view the vacancy on our website
And finally…
When we encounter brilliant people – we want to be open to finding that much sought after 'good fit'. We'll see if we can mould a role for you if we think we're right for each other.
NASH Maritime is an Equal Opportunities employer and is fully committed to equality and diversity in the workplace.
The successful candidate must have the right to live and work in the UK.
No recruitment consultants/agencies please.