Game Changers Event November 2020
---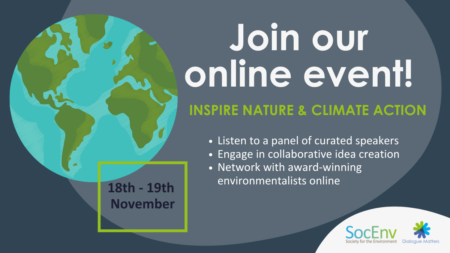 ---
Explore innovative ways to tackle the nature and climate crises at our upcoming Game Changers Event on 18th & 19th November 2020.
In recent months, the momentum to tackle the nature and climate crises has been lost, while it's clear the need for transformation is arguably more important than ever.
Be inspired by an impressive panel of environmental speakers, including:
Sally Uren, CEO, Forum for the Future
Judy Ling Wong CBE, Honorary President, Black Environment Network
Chris Sherwin, Director, Reboot Innovation
Tom Oliver, Professor of Ecology, University of Reading, and Senior Fellow of Defra Systems Research Programme
Diana Pound, Director, Dialogue Matters Ltd
Participate in 'Game-Changing' sessions
Share ideas and network with other environmentalists in an exclusive online networking space!
Tickets:
Professional @ £145 (+VAT)
Early bird @ £116 (+VAT)
Student @ £29 (+VAT)
Early Bird Tickets available until 21st October 2020!
Tickets available via Eventbrite
See the complete event agenda here
f you require additional information please contact us on admin@dialoguematters.co.uk