How long does it take for an idea to sink in? Much longer than we think. So no apologies for this image. Attending recent conferences, it's surprising that speakers with strong natural resources perspective are still using older models of sustainability which don't fully recognise the importance of environment. These two publications explain the context of the stronger 3 nested model.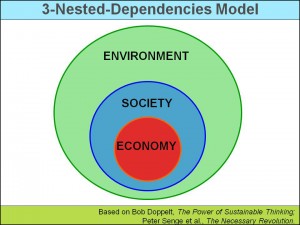 Sustainability advantage     '3-nested-dependencies model     If you were to ask a maritime fisherman whether the devastating collapse of the cod fishery off the east coast of Newfoundland was an environmental disaster, a social disaster, or an economic disaster, he would say, "Yes." The 3-nested-dependencies model reflects this co-dependent reality. It shows that human society is a wholly-owned subsidiary of the environment—that without food, clean water, fresh air, fertile soil, and other natural resources, we're cooked. It's the people in societies who decide how they will exchange goods and services. That is, they decide what economic model they will use. Because they create their economies, they can change them if they find their current economic models are not working to improve their quality of life. To add another metaphor: the economy is the tail and society is the dog—not vice versa.
To be fair, the society-economy relationship is symbiotic. During the recent recession, the economic downturn had a significant impact on people's quality of life. Good jobs are so important to a vibrant modern-day society that sustainability champions who portray the economy as subservient to society are sometimes accused of being naïve about how the "real world" works.'  Click here for more information
Mainstreaming Sustainability?   A Critical Review of the UK Government's progress by CIWEM  (2012)
A  significant shift in the sustainability agenda has occurred since the election of the Coalition Government in May 2010.  The current Government position on sustainability is that it should not be driven from a non-departmental, independent body but mainstreamed throughout government utilising the same frameworks as for other agendas.
Mainstreaming Sustainability critically examines this new approach to sustainable development and sets out CIWEM's position on whether we consider it to be an appropriate model.  This work takes into account recent commentary by the Sustainable Development Commission (closed down in April 2011), the House of Commons Environmental Audit Committee and others including CIWEM's own experts.
CIWEM has also analysed the actions taken on planning and zero-carbon homes from the DCLG, low carbon and green economy policies from the DECC and action on the natural environment from Defra. The Government's own performance across its estate in terms of carbon cutting and procurement is also assessed. CIWEM has judged each area against the principles of SD in Securing the Future.
http://www.ciwem.org/policy-and-international/current-topics/sustainable-development.aspx