Quarterly Update – Winter 2019
There is a phrase about living in interesting times and that is certainly where we are in relation to the water sector, amidst all the uncertainty, the politics and waiting for the final determinations from OFWAT.
What does this mean for the water sector and for companies across the supply chain? It means that resilience must be ever more prominent in discussions about the future of the water industry. Resilience not just in terms of the impact of climate change but also in terms of skills, operations, finance and more. With resilience in mind, we were excited to launch our 'Reducing Leakage – Alternative Thinking for Alternative Strategies' document this month at Future Water Networks 2019.
This is certainly the time to push forward on engagement, collaboration and working together. As an association we are increasing our engagement with the water companies, through our liaison meetings, Water Dragons programme, the Water Zone at the Big Bang Fair, Future Water Networks events, Intelligent Water Management Group, Cyber Security and Innovation training.
During 2020 our activities will continue to increase and as always, our members are key to driving the direction of the Association and its work. Get your thoughts and concerns heard – BECOME A MEMBER.
The Association is here to help and we look forward to welcoming you.

Kind regards


Paul Horton, Chief Executive Officer
paul@futurewaterassociation.com @FutureWaterAsso
---
News from Future Water Association
Call for entries – 2019/2020 Emerging Talent & People Awards
When you're busy with the day to day tasks it can be easy to take excellence and best practice for granted. Taking the time to recognise your successes by nominating your business for an award is a great way to boost morale by recognising the achievements and talents within your company.
The 2019/20 Future Water Association Awards are now open, and we are inviting members to submit entries into the People and Emerging Talent categories.
Emerging Talent Award – Complete an Entry Form   Sponsored by ARUP    
People Award – Complete an Entry Form  
---
Paul Horton takes part in Affinity Water's #WhyNotWater Podcast Series
In a new #WhyNotWater podcast series launched on social media by @AffinityWater Future Water Association has signed up to Affinity Water's #WhyNotWater Campaign, with its call to action for consumers to demand key changes to legislation and policy supported by government and manufacturers. Paul Horton, sets out the reasons why water companies and government itself should do more to communicate to consumers the real value of the water they use in their homes.
In the podcast Paul discusses how more needs to be done to communicate to consumers just how good tap water is in the UK and what good value for money it is. He discusses the climate change debate, the urgency of the need to take action on our individual water use and reduce it, in line with Affinity Water's four #WhyNotWater campaign Asks. Read more.
Listen to Paul's complete episode from Affinity Water's #WhyNotWater podcast series: https://bit.ly/2Wpm4XA
---
Paul Horton & Alastair Moseley share their Water Story with Ofwat
Many thousands of people work within companies to deliver water and wastewater services in England and Wales every day. Thousands more work on behalf of the companies as contractors or supply the goods, services and innovations that make services possible – the supply chain.
Ofwat caught up with Paul Horton, Chief Executive and Alastair Moseley, Chair of the Innovation Hub, to get their take on the challenges facing water and wastewater services and how we can build a better future.  Watch the full interview
---
Future Water Association Launch 'Brexit First Aid Kit'
Future Water Association are offering free support to anyone working in the water industry, so that they may better understand how Brexit will affect their business.
Future Water Association's support takes the form of a 'Brexit First Aid Kit', financed by the Department of Business, Energy & Industrial Strategy (BEIS) and the Business Readiness fund. The kit consists of 4 webinars, hosted by expert advisors and tailored to the needs of the water industry and its supply chain:
The Impact of Brexit on jobs and skills
Nuts and bolts of finance
Supply Chain Brexit Conundrum
Politics of Brexit & what next for water
Find out more about the First Aid Kit for Brexit plus links to additional resources.
---
Driving Transformational Change in the Water Industry
On 26 September 2019 Future Water Association welcomed delegates to it's first innovation session in Kenilworth in collaboration with BlueJohn Marketing.
The one day course was attended by a range of companies and organisations all keen to learn more about how to innovate in the water sector.
Due to the success of this course, more innovation sessions will be happening in 2020. Watch this space for more details.
---
Future Water Networks 2019
The event was a 'knowledge blitz' on the core areas of water and wastewater network management where we challenged current thinking and heard from some inspiring industry speakers offering 'Alternative Thinking for Alternative Strategies'.
Companies sharing their thoughts and insights included Smart DCC, RPS, Severn Trent, Bristol Water, Anglian Water, Yorkshire Water & Artesia Consulting. Representatives from WSP & Veolia took part in the day by chairing speaker sessions as well as joining the Water Dragon judging panel along with innovation experts from Wessex Water, Energy Utility Skills & Arup.
During the event we launched the 'Reducing Leakage – Alternative Thinking for Alternative Strategies' document setting out six 'game changers' by means of an illustration documenting the collective thinking of a leakage workshop that took place in October.
There was also a heat of our innovation competition Water Dragons where seven companies pitched their products and services to a 'Dragon's Den' style panel of industry experts plus the conference delegates. The company that impressed the judges most on the day and won the heat was Hydrao with their innovative smart showerhead. The audience choose Vapar and their AI inspection software as their winner. Both winning companies will go on to compete in the Water Dragon Grand Final at Yorkshire Water in March.
---
---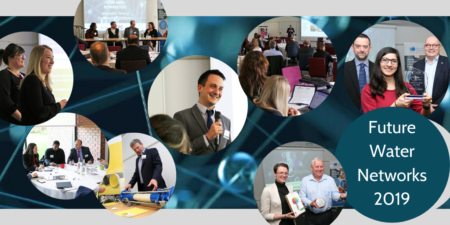 Many thanks to the Sponsors & Exhibitors

---
Additional meetings, activities & initiatives from the last quarter:
---
What can you do in the members area of the website?
Access notes and presentations from water company meetings, working groups, member engagement forums, innovation sessions with Ofwat & Future Water Networks.
View industry consultations and assist with drafting the Association's responses.
Update your member their profile information.
Submit news articles.
Download the 'Member Of' logo for use on your website/email signature.
If you have any questions regarding the members area of the website, or need reminding of your username or password, please contact us at admin@futurewaterassociation.com.
---
Water Dragons 2020 – CALL FOR ENTRIES
Ever been tempted to enter our Dragon's Den style water innovation competition 'Water Dragons'? We are now accepting entries for 2020. If you have a product or service that you believe will prove invaluable to the future of the water industry, why not enter and receive feedback on your idea from some of the most experienced professionals in the industry.
---
Extending a warm welcome to our newest members:
Advanced Engineering Solutions Limited (AESL) are pipeline engineers operating in the water and gas utility sectors, and are part of the SSI Group.
For the UK and International water industry, AESL specialise in inspection and condition assessment activities on water pipelines, sewer rising mains and storage vessels. The range of pipeline diameters and materials are investigated using commercial and AESL-developed inspection equipment and condition assessment processes. www.aesengs.co.uk
---
CSO Group is based in the southeast of the United Kingdom just 30 miles from central London and less than an hour from all of London's airports.
Initially manufacturing and distributing Combined Storm Overflow equipment and odour control systems into the waste water sector in the UK, CSO now provides pollution solutions in the Energy from Waste (EfW), Municipal Solids Waste (MSW), Waste Water Treatment (WWT) and General Industrial sectors. www.csogroup.co.uk
---
Evides Industriewater through partnerships with water companies in The Netherlands, Belgium, Germany and the UK we are helping to reduce the demand that industry puts on existing infrastructure and the environment.  Our dedicated assets are designed to meet the needs of both growing industry and ever tightening environmental compliance and our Water Without Waste philosophy is leading the way on recovering and reusing valuable resources. www.evidesindustriewater.nl/
---
Sanivar UK have 40 years experience developing highly advanced pipe-lining solutions designed to restore decaying and ageing pipe infrastructure across the utility and industrial sectors. Using the latest trenchless technologies and proven inversion and slip-lining processes, Sanivar linings offer innovative solutions to the challenges of pipe repair and refurbishment. www.sanivar.co.uk 
---
Stantec are designers, engineers, scientists, and project managers, innovating together at the intersection of community, creativity, and client relationships. Balancing these priorities results in projects that advance the quality of life in communities across the globe. Please visit stantec.com to learn more about how Stantec designs with community in mind.
---
WES Ltd is a chemical dosing solutions provider delivering the design expertise and engineering know-how to effectively add chemicals to our clients process. The range of services WES offers vary from a simple component through to the complete design, build and installation of bulk chemical dosing systems. www.wes.ltd.co.uk 
---
View the complete list of member companies
Discover more about becoming a Future Water Association Member
---
Upcoming 2020 Events, Activities & Initiatives
Bristol Water Engagement Meeting – 28 January 2020
Date: Tuesday 28th January 2020
Meeting time: 11.00am – 2.00pm (pre-meet 10.30am – 11.00am)
To register your interest in joining the delegation for this meeting please email Angela Long at angela@futurewaterassociation.com by close of play
---
Digital Water – Wet Networks – 11 March 2020 London + Online | by Arup and WRc
Arup

 and 

WRc 

are joint conveners of the Wet Networks series of events that provide a medium for networking and the exchange of ideas between senior players in the water technology sector.The event will also be live-streamed for those who can't attend in person. You can make appropriate ticket selection during registration. Register by clicking here.
---
Water Dragons 2019 Final – 31 March 2020
Future Water Association's Water Dragons provides a unique opportunity for companies to pitch their innovative water products, services or processes to a panel of water sector specialists – the 'Dragons' and this year the final will be supported and hosted by Yorkshire Water. 
It promises to be a day of ideas, views, creativity, interaction and networking!
Meet the companies the 2019 finalists:
Propelair

 – High performance, water saving toilet

Lilypads

 – Innovative sanitary products that don't cost the earth
Twipes – A truly flushable wipe
Hydrao – The world's first smart showerhead  
VAPAR –Automated asset fault detection
Details of how you can join the audience will be available shortly. 
---
Call for Exhibitors & Speakers – Innovation to achieve AMP7 02 April 2020
Dŵr Cymru Welsh Water are holding an Innovation Event on 2nd April 2020, and Future Water Association members have been invited to speak, exhibit and sponsor the event.
The aim of Dŵr Cymru Welsh Water's annual innovation event is to highlight what has been achieved in AMP6 and the art of the possible in AMP7, and beyond, to achieve their 2050 vision.
To find out more details on the event and the opportunities available please click here. 
Expressions of interest forms should be completed and returned to Dŵr Cymru Welsh Water as soon as possible. Welsh Water will contact successful candidates.
Future Water Association is proud to support this event.
---
Introduction to the UK Water Industry Course – 31 March & 1 April 2020
Delivered in Partnership with the Institute of Water and designed to help anyone new and working in or with the water sector gain a detailed understanding of all aspects of the water industry and the management and delivery of this essential service.
Places for these courses are strictly limited and always popular so early application is recommended. COMPLETE A BOOKING FORM. 
Additional courses for 2020:  23 & 24 June,  6 & 7 October
---
2020 Awards Lunch – 7 May, Regency Hotel
We are delighted to announce that we shall be hosting our annual Awards Lunch at the luxury Hyatt Regency hotel in Birmingham.
At this highly regarded industry event, we will acknowledge and celebrate the people, the emerging talent and the innovative thinkers who have made a tangible impact on the water sector during 2019.
More details to follow shortly. 
---
Member News
Morrison Utility Services (MUS), is using the world-leading International Safety Rating System (ISRS) to support the continued development of its Safety, Health, Environment and Quality (SHEQ) assurance processes. Read more.
---
Lanes Group – A multi-disciplinary team of drainage engineers from Lanes Group plc has completed the lining of a drainage pipe nearly one kilometre long on behalf of a contractor working for Scottish Water. Read more.
---
Yorkshire Water has awarded £1billion AMP7 Complex and Minor MEICA Frameworks, covering new build and  refurbishment works for all mechanical, electrical, instrumentation, control and automation assets. Read more.
---
Industry Events & Activities
ICE Exhibition – From Source to Tap
Now – 28 February 2020
Find out more
WWT Water Industry Innovation Conference 
5 December 2019
Find out more
Environment Analyst – Flood Risk Management:
Resilience and Adaptation 2019
5 December 2019
Find out more
Pumping Systems 2019:
Improving Pump Efficiency across the Lifecycle
11 December 2019
Find out more
WWT Wastewater 2020
28 January 2020
Find out more
World Water-Tech Innovation Summit
25 February 2020
Find out more
WWT Smart Water 2020 Conference & Exhibition
11 March 2020
Find out more
Innovation to Achieve AMP 7
2 April 2020
Find out more
Discover more about becoming a Future Water Association Member