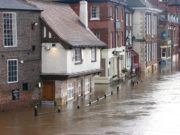 This online e-Learning module is designed for existing flood risk professionals (asset managers, partnership managers, flood risk managers) who are looking to develop their river flooding and science knowledge together with a wider understanding of flood risk modelling and the science behind it. This module will also be of interest to civil engineering and other graduates looking to develop specific knowledge in river flooding.
The focus of this short module is on fundamental processes linked to river hazards, including floods. It introduces key datasets and methods used in river flood risk assessment, referring to best practice guidance (e.g. UKCP18). It explores potential changes in river hydrological/hydraulic processes over different timescales in response to internal and external controls, including climate change.
Enrol now for River Flooding Science!
Key Learning Outcomes 
Upon successful completion of this online learning module, participants will:
understand the fundamental hydrological and hydraulic processes operating in rivers
be able to analyse fundamental river information
demonstrate ability to investigate the potential impacts of future changes on river flooding
Course Duration
This eLearning module has a learning time equivalent to 20 hours and the study mode is self-paced. You will have four months access to the Online Learning Platform.
Assessment – Multiple-choice questions, pass mark 75%.
Award – CIWEM Accredited Brunel University London CPD Certificate.
Course Fee: £480 inc VAT
If you would like a more foundational introduction to Flooding, please enrol onto our FREE An Introduction to Flood Risk and Resilience online course here.
Contact Us: Please contact learning@ciwem.org or call +44 (0)20 7831 3110 with any booking enquiries.