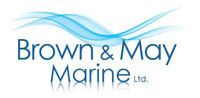 Fisheries Specialist
Primary Sector: Commercial Fisheries
Secondary Sector: Offshore Energy
Location: Eye, Suffolk
Region: East Anglia
Job Function: Specialist & Technical
Perm/Temp: Permanent
Brown and May Marine Ltd. are looking to recruit a Fisheries Specialist. The successful candidate will join a team expanding to meet an increasing workload both from existing and new clients in the renewable (offshore wind farms), oil and gas and subsea cable industries both within the UK and Europe.
The role will include managing projects in relation to liaison allowing effective communication and cooperation between the clients, statutory and fisheries stakeholders. In addition, the successful applicant will be required to author reports on a range of subjects including fisheries activities and methods. The work will be undertaken at Brown & May Marine's office in Eye, Suffolk as well as travel around the UK and possibly Europe.
To apply, please send CV and covering letter to meg.kalafat@brownmay.com.
Essential Requirements
Minimum two-years relevant experience of commercial engagement
Good communication skills and experience of liaising with a range of clients and industry stakeholders
Background experience and/or knowledge of commercial fisheries practises
Proven report writing and presentation experience
Computer Literacy (Microsoft Office)
Experience in data recording, inputting, analysis, interpretation and acquisition
Ability to work independently on own initiative and as part of a team, to achieve demanding deadlines
Teamwork, flexibility, organisation and effective time management
Full driving license
Available for travel around UK & Europe
Closing Date: 28th February 2019
Contact Name: Meg Kalafat
Contact e-mail: meg.kalafat@brownmay.com