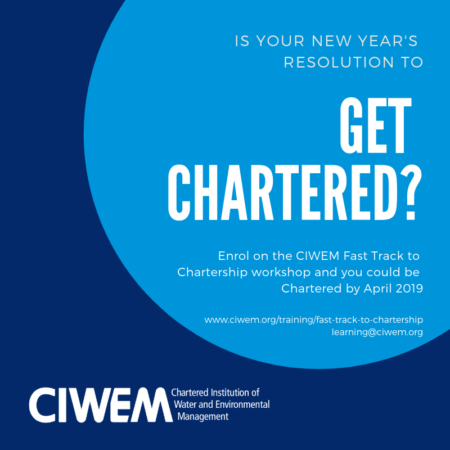 Not yet Chartered? Haven't had the time? Not got around to doing your application yet? No more excuses please; form an orderly queue for CIWEM's new Fast-track to Chartership workshop
This one-day practical workshop will help you to accelerate the time it takes to gain professional registration (C.WEM, CEng, CEnv and/or CSci) with CIWEM. Our experienced trainers will share their extensive hands-on knowledge of the assessment process and technical expertise to support you in preparing an outstanding application for chartership.
The workshop will:
Guide you through the application process and highlight the deadlines you need to meet

Clarify what your career overview should contain

Offer you a review of your career overview from an experienced trainer

Guide you on how to complete the mandatory competencies (MCs)

Enable you to spend time completing your MCs with experienced trainers on hand to offer one-to-one advice

Help you to prepare for your professional review interview

Partner you with an experienced trainer, who you can contact after the workshop for support in finalising your application.
Who should attend?
Professionals working towards a registration with CIWEM who:
Require additional support with their application

Need focused time to complete their MCs

Want to accelerate the route to gaining chartership.
It will be of particular interest to those who should already be chartered but have never got around to completing their application.
To enrol you must meet the requirements to become a chartered member.
Dates and Locations:
29 January 2019, 0930-1630 hrs
Location: CIWEM, 106-109 Saffron Hill, London EC1N 8QS
19 March 2019, 0930 – 1630 hrs
Location: WRc Plc, Frankland Road, Swindon, SN5 8YF
Course Fee: £455 + VAT (this fee is inclusive of all assessment and membership upgrade fees)
Places are limited and allocated first come, first served. Book now at www.ciwem.org/training/fast-track-to-chartership or call (0)207 831 3110 to discuss your eligibility for the workshop.