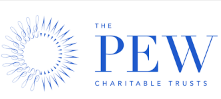 Senior Associate, Communications (Multimedia Producer)
Location: Washington, Dist. Columbia 20004
The Pew Charitable Trusts is driven by the power of knowledge to solve today's most challenging problems. Pew applies a rigorous, analytical approach to improve public policy, inform the public, and invigorate civic life.
We are an independent nonprofit organization – the sole beneficiary of seven individual trusts established between 1948 and 1979 by two sons and two daughters of Sun Oil Company founder Joseph N. Pew and his wife, Mary Anderson Pew.
Our work lays the foundation for effective policy solutions by informing and engaging citizens, linking diverse interests to pursue common cause and insisting on tangible results. Our projects encourage efficient, responsive governments – at the local, state, national, and international levels – serving the best interests of the people. We partner with a diverse range of donors, public and private organizations, and concerned citizens who share our interest in fact-based solutions and goal-driven investments to improve society.
With offices in Philadelphia, Washington, DC, Brussels, and London and staff in other regions of the United States as well as Australia, Pew provides an exciting learning environment and the opportunity to work with highly talented individuals. We are a dynamic, rapidly evolving organization that values creativity and innovative thinking and fosters strong teamwork with mutual respect.
Communications
The Communications department supports leaders at all levels of the institution to promote project and campaign efforts, inform key audiences, and protect and advance the Pew brand. The department provides a comprehensive range of communications services for all programmatic and administrative units and Trusts-operated projects. Our in-house expertise includes: strategy and message development; editorial support; design and creative services; media event planning; digital and video production; and social media. The unit oversees all communications policies, guidelines, and processes in order to manage the Pew brand, ensure production of the highest quality work, and effectively steward Pew's resources.
Position Overview
This position, based in Pew's Washington, DC office, reports to the project director, communications and is a member of the Pew communications staff supporting a new initiative focused on expanding our distribution of facts and data through a variety of tactics. Primary responsibilities include: serving as the team's multimedia strategist and producer. This role will oversee the development of a new video series from conception to distribution, working closely with project staff and external video production resources. Her or she will also advise on the best uses of video, photography and potentially audio to advance project goals.
The position has a set time frame that could be extended based on the success of the program, funding sources, and board decisions on continued support.
Responsibilities
Video
Create a new video series that engages target audiences and meets project goals.
• Lead strategic planning for video and potentially audio storytelling from conception to distribution.
• Oversee all phases of video production, from pre-to post production, including shooting, lighting, creating shot lists, scouting and booking talent and locations, conducting research and interviews, preparing locations, and implementing cuts and graphics.
• Closely manage the work of external video production resources, such as A/V technicians, freelancers or production crews.
• Create an efficient process for vetting and approval of video and audio content proposals from the beginning of a project to completion.
• Assess performance of multimedia content and adjust strategies as needed.
• Develop innovative and creative opportunities to distribute multimedia assets, in collaboration with the project team.
Photography
Assign and/or research compelling still imagery for use across digital channels including social media, the website, and as part of video content.
• Maintain the project's media library including uploading, keywording, and rights management.Requirements
Bachelor's degree required; related graduate degree desirable.
• At least four years of hands-on relevant multimedia production experience, preferably at a digital publisher, government agency or non-profit organization.
• Strong digital storytelling skills with a creative vision that is both inspired and relevant.
• Experience producing narrative video, animation experience a plus.
• Experience managing all aspects of video production, from script to delivery.
• Extensive experience with editing on Premier.
• Proficiency in Adobe Bridge, Photoshop and other Creative Suite applications helpful.
• Excellent writing skills.
• Knowledge of the stock photography market preferred.
• Audio production experience preferred.
• Strong project-management and organizational skills. Demonstrated ability to handle multiple projects simultaneously, set priorities, organize time and identify resources for projects.
• Ability to work independently with limited supervision in a fast-paced environment. Flexible and able to routinely juggle multiple competing priorities, meet deadlines and work in teams to meet project goals.
• Ability to develop and manage productive and collaborative relationships with external and internal stakeholders and approach issues with a nonpartisan, objective mindset.
• Attention to detail, including exacting standards to maintain accuracy in all work products.
• Other duties as assigned.
Travel
Minimal to no travel expected for the position.
Compensation and Benefits
We offer a competitive salary and benefit program, including: comprehensive, affordable health care through medical, dental, and vision coverage; financial security with life and disability insurance; opportunities to save using health savings and flexible spending accounts; retirement benefits to help prepare for the future; and work/life benefits to maintain a good balance.
The Pew Charitable Trusts is an equal opportunity employer, committed to a diverse and inclusive workplace. Pew considers qualified applicants for employment without regard to age, sex, ethnicity, religion, disability, marital status, sexual orientation or gender identity, military/veteran status, or any other basis prohibited by applicable law.
Apply Here: http://www.Click2apply.net/7jhck4qjcggqftb4
PI103645165