CIWEM Diffuse Pollution: Evidence, Effective Practice and Lessons for Policy, Practice and Investment
Wednesday 18 – Thursday 19 July 2018  |  SCI, Central London  |  More Info
 
Only two weeks left to book your place!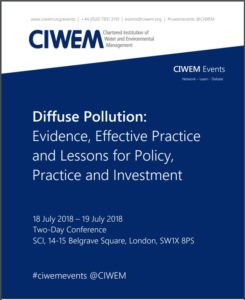 Diffuse pollution plays a pivotal role in how successfully water quality objectives under the Water Framework Directive are achieved. Despite significant progress being made on improving the quality of our rural, urban and bathing waters in the past 15 years, diffuse pollution continues to be a major impediment to meeting these objectives.
The aim of this conference will be to set out the policy drivers and opportunities, emerging trends and understanding on the scale of the problem and current progress on diffuse pollution from a range of sources. It will examine the delivery of cost effective practice and what form this should take, and how lessons can be taken forward into post-Brexit policy and investment programmes.
This two-day event will present innovative case studies, collaborative approaches and facilitate discussion on the scale of the issue and current progress on rural, urban and bathing water quality issues and diffuse pollution.
Join us to…
Increase your awareness of urban, rural and bathing water quality issues and pollution sources

Understand how different approaches are succeeding in tackling the problem

Inform thinking on what a constructive contribution to post EU-exit legislation may look like

Discuss emerging issues and innovative modelling and monitoring techniques

Identify opportunities within the water and environment sectors for business opportunities and expansion

Understand where physical intervention measures will assist in the management of professional and organisational risk

Please note that single-day, two-day and two-day transferable tickets are available at standard, concession and retired/student rates. Please contact events@ciwem.org with any enquiries.
---
Sponsorship Opportunities
We offer a range of opportunities to suit your budget that can strengthen your brand and reach our diverse audience. If you are interested, please email mailto: sponsorship@ciwem.org or call +44 (0) 207 269 5810.
This event is kindly sponsored by: