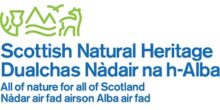 Policy & Advice Officer – Conservation Objectives
37 hours per week, Fixed Term until 31st March 2018
Starting Salary £29,643 per annum pro rata
Location: Inverness or Battleby (Perth), other locations will be considered dependant on skills and experience of the candidate
(Ref: 052-342)
This is an opportunity to gain experience working on Marine Protected Areas in SNH's Coastal & Marine Ecosystems & Use Unit with Scottish Natural Heritage.
The Scottish MPA network reflects the diversity of Scotland's seas including habitats such as horse mussel beds, flame shell beds and burrowed mud together with species like common skate and sand eels. These sites play an important role in helping conserve Scotland's marine environment. To do this effectively, we need to be able to clearly set out the purpose of these sites and what we believe they should be achieving.
The focus of this post is to lead on developing conservation objectives for special areas of conservation in Scottish territorial waters. You must a sound understanding of marine ecology, habitats and species of Scotland and issues relating to their conservation; with wildlife and a clear understanding of SNH's role in the safeguard and management of Marine Biology. Communication skills, both written and verbal with evidence of a strong team working ethos is a must, and the ability to balance competing and conflicting demands. Finally, you must demonstrate awareness of Scotland's system of protected areas.
Closing date: 22nd August 2017
Interview: 27th September 2017
To apply please visit www.snhjobs.co.uk