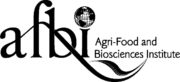 Marine Fish Population Modeller – Senior Scientific Officer (SSO)
REF: IRC218178
SALARY: £36,448 – £40,072
DEPARTMENT: Agri-Food and Biosciences Institute Northern Ireland (AFBI)
LOCATION: AFBI Newforge, Belfast
---
Further appointments may be made from this competition should AFBI positions become vacant which have similar duties and responsibilities.
For more detailed information and to apply, please go to www.nicsrecruitment.org.uk.
Alternatively, an application pack can be requested by contacting:
HRConnect, PO Box 1089, The Metro Building, 6-9 Donegall Square South, Belfast, BT1 9EW. Telephone: 0800 1 300 330. Email: recruitment@hrconnect.nigov.net.
All requests must include your name, address and reference number IRC218178.
Completed application forms must be returned to arrive not later than
12:00 noon (UK time) on Friday 26th May 2017.
Applications are particularly welcomed from Roman Catholics as this group is currently under-represented within AFBI.
AFBI is an Equal Opportunities Employer
ALL APPLICATIONS FOR EMPLOYMENT ARE CONSIDERED STRICTLY ON THE BASIS OF MERIT