"Very high" levels of E coli found in oysters and mussels have led to the closure of 11 shellfish production zones in Cornwall.
In an email seen by the Guardian and Watershed Investigations, the Cornwall Port Health Authority (CPHA) told food business operators they "must not collect the affected animals from this area by any method. It is unsuitable for their production for health reasons and has been temporarily closed."
The main sources of faecal contamination are generally agriculture, sewage and urban pollution, according to the Environment Agency.
In the 11 closed areas around the rivers Fal, Truro and Carnon, the E coli levels reached up to 92,000/100g. The CPHA said the readings were very high and that anyone who continued to harvest shellfish from these areas faced fines or imprisonment for up to two years.
The shellfish industry is furious with the government for not tackling the problem sooner.
James Wilson, a water quality project manager from the Shellfish Association of Great Britain, said: "The industry has been saying to government for years that we need to clean up our waters. We're constantly fobbed off [and] it constantly gets worse.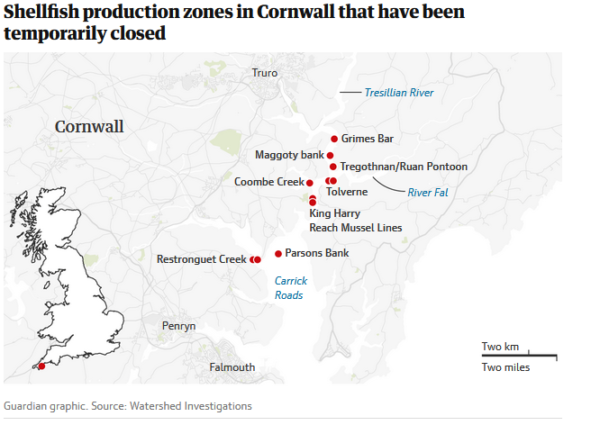 To read the full Guardian article click here