A trio of orcas attacked a boat in the Strait of Gibraltar earlier this month, damaging it so badly that it sank soon afterward.
The May 4 incident was the third time orca (Orcinus orca) have sunk a vessel off the coasts of Portugal and Spain in the past three years. The subpopulation of orcas in this region began harassing boats, most often by biting at their rudder, in 2020. Almost 20 percent of these attacks caused enough damage to disable the vessels, says Alfredo López, an orca researcher at the Atlantic Orca Working Group (GTOA), which monitors the Iberian killer whale population. "It is a rare behaviour that has only been detected in this part of the world," he says.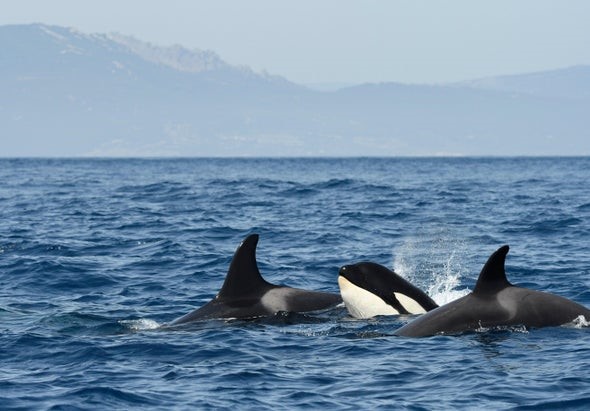 A group of three orcas, also known as killer whales, are seen swimming in the Strait of Gibraltar. Individuals in the critically endangered subpopulation have been attacking boats off the coast of the Iberian Peninsula. Credit: Malcolm Schuyl/Alamy Stock Photo
The first known incident occurred in May 2020 in the Strait of Gibraltar, an area with heavy boat traffic. Since then, GTOA has recorded 505 cases of orcas reacting to boats. Sometimes they simply approached the vessels, and only a fraction of cases involved physical contact, López says. In a study published in June 2022 in Marine Mammal Science, he and his colleagues catalogued 49 instances of orca-boat contact in 2020 alone. The vast majority of the attacks were on sailboats or catamarans, with a handful involving fishing boats and motorboats. The average length of the vessels was 12 meters (39 feet). For comparison, a full-grown orca can be 9.2 meters (30 feet) long.
The researchers found that the orcas preferentially attack the boats' rudder, sometimes scraping the hull with their teeth. Such attacks often snap the rudder, leaving the boat unable to navigate. In three cases, the animals damaged a boat so badly that it sank: In July 2022 they sank a sailboat with five people onboard. In November 2022 they caused a sailboat carrying four to go down. And finally, in this month's attack, the Swiss sailing yacht Champagne had to be abandoned, and the vessel sank while it was towed to shore. In all cases, the people onboard were rescued safely.
To read a report in Scientific American click here