The Future Fisheries Alliance's call for improved at-sea monitoring across vessels fishing in UK waters received a boost last month when Natural England recommended the immediate roll-out Remote Electronic Monitoring (REM) to vessels that have the highest impact on our seas.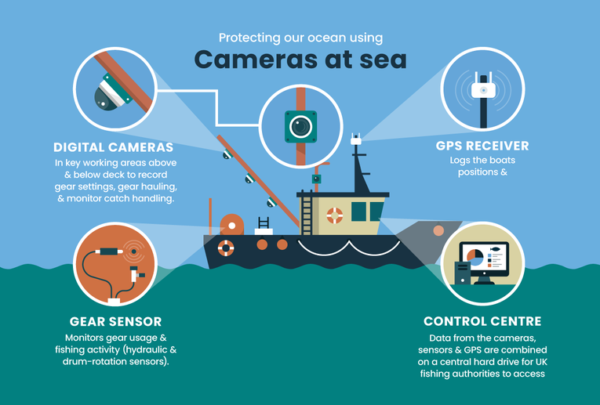 The Alliance is a collaboration between WWF UK, Marine Conservation Society and RSPB and their recent report argues that effective monitoring on vessels using REM with cameras is essential to eliminate bycatch as well as overfishing.
The coalition believes it should be a mandatory requirement to have REM with onboard camera coverage on all vessels fishing in UK waters to help tackle the nature and climate emergency.
'When will the UK governments roll out fishing vessel monitoring?'
In a blog that appears on Scottish LINK and WCL's pages, WWF policy advisor Mario Ray explores how applying REM technology would be a win-win-win for wildlife, fishers and the consumer.
In it, Ray explains that REM with cameras is a powerful and cost-effective tool that answers three fundamental questions: where/when boats are fishing, how they are fishing and most importantly, what is being removed from the water.
He goes on to say that REM enables fishers to demonstrate to the public and retailers that they are operating in a sustainable way, using best practice and highest levels of selectivity. REM would also empower fishers by putting them at the heart of the data collection process, bridging the gap between them and fisheries managers.
The 'fish-counting' cameras provide fishers with an opportunity to document what they are seeing and feed into the science of quota setting.
Natural England report
Last month, Natural England released a report recommending the immediate roll-out of REM to the 'highest risk' fleets such as demersal trawls to: 1) help promote compliance; 2) collect data for data-poor fisheries; 3) protect sensitive species; and 4) contribute to achieving GES.
The aim of the report was to consider implementation options for the most efficient and effective suite of REM technologies for English inshore fisheries. A pragmatic approach to the development of any such programme would be to prioritise those fisheries that pose the highest risk to the marine environment, and the achievement of Good Environmental Status. The framework includes an evaluation of the costs and benefits provided by different levels of monitoring, thereby allowing policy-makers and regulators to consider different approaches and understand the relative cost implications.
Joint Fisheries Statement and Government role
Defra published a call for evidence at the end of 2020, with the Scottish Government setting out a consultation in March of 2022. Ray of WWF UK writes that 'it was disappointing that UK governments did not take the opportunity to commit to rolling out REM across the UK fishing fleet when they produced the draft Joint Fisheries Statement. However, there is still an opportunity, as the final version of the JFS has yet to make an appearance. All four governments can still provide a unified voice in support of REM with cameras being a key element of fishing in UK waters.'
The blog closes by asking 'when will the UK governments step up and roll-out REM to the highest-risk fleets and embrace the benefits that REM brings for wildlife, fishers and the consumer?'
Links