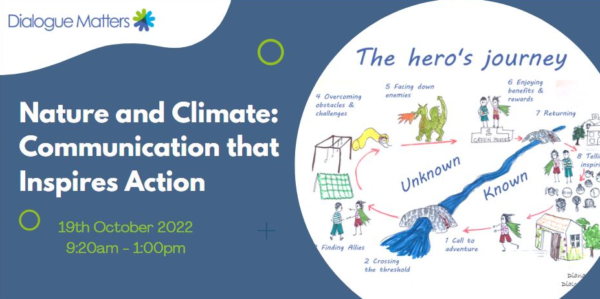 ½ day, online event – Learn to Communicate About Nature
and Climate to ACTUALLY INSPIRE CHANGE
Date: October 19th, 9:20am – 1:00pm | Event tickets here
So much of the communication we receive about the nature and climate change crisis is issues-based, stats heavy, and full of doom and gloom. Common thinking has been that scaring people with the facts will catalyse action. After 40 years of this, it's becoming clear that this is not the case – instead of action, it's leading to feelings of helplessness and apathy.
So how can we communicate in a way that encourages action, not despair?
The answer is the inspiration for this event. Bringing together communication experts from environmental psychology, neuroscience, and behaviour change, we offer you four different perspectives on 'communication that inspires action'. Interactive masterclasses will equip you with the practical knowledge and skills to better motivate climate and nature action.
What will you learn?
How to communicate about the nature and climate crisis effectively
New tools to engage people and inspire positive action
The benefits of new ways of communicating
Event Speakers:
Kris De Meyer is a science communication expert and neuroscientist who uses his knowledge of how the mind and brain work to transform the way people communicate about climate change. Kris is the director of the Climate Action Unit at UCL, championing climate change storytelling and helping communities to create climate-positive action.
Livvy Drake is a sustainability consultant and behaviour change specialist who empowers environmental changemakers to achieve their sustainability goals. The founder of Sustainable Sidekicks, Livvy uses her insights from behavioural science to help communicators, campaigners, and businesses inspire impactful behaviour change.
Diana Pound  is passionate about helping people to communicate better, with over 25 years' experience in training and facilitating innovative Stakeholder Dialogue. She set up Dialogue Matters in 2000, and as well as designing and facilitating groups to agree positive actions for nature, climate, and people, she has trained several thousand to do the same.
Final speaker to be confirmed soon!
Take advantage of our Early Bird offer and book your ticket now