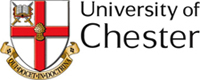 Postgraduate Programmes in Flood Risk at University of Chester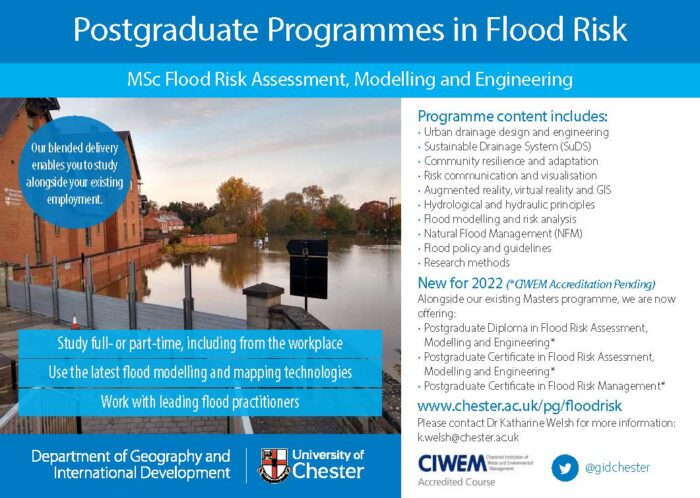 Thinking about Postgraduate Study whilst remaining in the workplace?
Find out more about the postgraduate programmes we offer:
MSc Flood Risk Assessment, Modelling & Engineering
Plus our new programmes for 2022/23 entry:
PgDip Flood Risk Assessment, Modelling & Engineering*
PgCert Flood Risk Assessment, Modelling & Engineering*
PgCert Flood Risk Management*
 
More information: www.chester.ac.uk/pg/floodrisk
Book onto our next Open Day event on 18/06/22:
https://www1.chester.ac.uk/postgraduate/open-days#book
Applications now open!
---
Across our postgraduate programmes, we offer the following modules:
Engineering, Hydrology and Hydraulic Principles in Flood Risk Management
Flood Risk Modelling
Adaptation and Flood Resilience
Natural Flood Management and the Catchment Context
Sustainable Urban Drainage Design and Concepts
Research Methods and Analytics in Flood Risk Management
Independent Dissertation
What makes the course unique?
The Department of Geography and International Development at the University of Chester offers a range of flood-related Postgraduate programmes that address challenges and skills gaps in the water industry
Key modules focus on flood modelling and GIS, urban drainage design and engineering, natural flood management and sustainable drainage systems, resilience and adaptation.
The programmes are designed to enable participants to stay in employment while pursuing postgraduate study through an innovative delivery model that involves a combination of classroom-based activities, fieldwork (virtual and local), online delivery and engagement with flood practitioners.  Students join us online on Microsoft Teams one afternoon per week for 2-4 hours (depending on module choices) for a mixture of 'live' sessions and asynchronous sessions. There are also three onsite 'block delivery' weeks, usually in October, January and April; the minimum number of days onsite is 12 and the maximum is 16 (depending on module selection).
The programme is co-designed and delivered by industry experts and academics
The programme utilises the latest innovative technologies and software, including Augmented and Virtual reality, virtual fieldwork, Flood Modeller, TUFLOW and Causeway Flow.
What do our students say about the course?
"The modules are enjoyable and challenging without being isolating. Using mini quizzes and asking questions keeps students engaged. Especially as it's a mainly online course. I think all the lecturers I've had so far are brilliant at engaging everyone and clearly passionate about what they're teaching." (Part-time student, also working full time in public sector)
"It feels like you don't just want us to do well academically, but prosper as individuals, which is a good feeling!" (Part-time student, also working full time in public sector)
"Lessons learned from the FRAME course in general are already being fed into real world situations [within my role at work.  "It has been a highly insightful course, recommended for anyone wishing to learn more about the challenges caused flooding in the UK and Ireland and the best practice solutions."]" (Full-time student, also working full time in private sector)
"Enjoying it immensely and only wish I'd done it earlier in my career" (Part-time student, also working full time in public sector)
"The good things about the online sessions are the fact that I can watch and participate with lectures from home" (Full-time student)
Our cohorts usually comprise a mixture of recent graduates from a range of subject areas such as geography, civil engineering and law and those already employed in the water industry such as staff from lead local flood authorities, environmental consultants, and civil engineering firms. We have a mixture of full time and part-time students on our programmes.
For more information please contact: 
Programme Leader: Dr Katharine Welsh (k.welsh@chester.ac.uk)
*CIWEM accreditation for PgDip and PgCert is pending. MSc is already fully accredited by CIWEM.