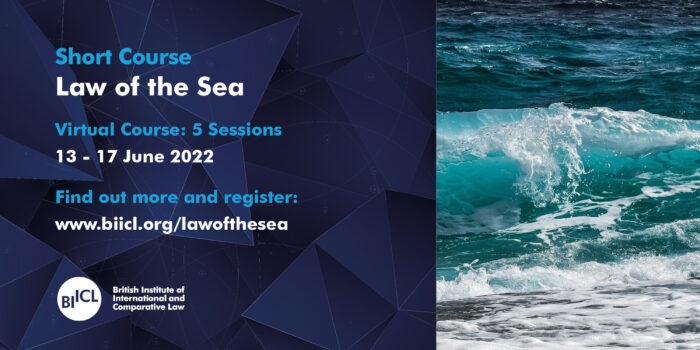 BIICL Training Programme Summer 2022: Law of the Sea Short Course
The British Institute of International and Comparative Law (BIICL) provides training that combines world leading research with an applied perspective. Our courses are designed to enable legal practitioners, government officials, students, academics, and civil society organisations to gain expert insights and to deepen their knowledge in areas of international law.
During summer 2022, BIICL will once again offer the popular Law of the Sea course alongside two new programmes the European Rule of Law Toolbox and a new course in Public International Law. Each course is convened and taught by international experts from BIICL's own team in collaboration with external partners, combining academic expertise with practical experience in these fields of law.
Short course: Law of the Sea
Five Sessions: 13 June – 17 June 2022
This course offers an informative overview of the international law of the sea and current challenges facing the world's oceans and seas. Bringing together a distinguished cohort of law of the sea experts from academia and practice, the course provides participants with a solid working knowledge of the relevant legal and regulatory framework for the governance of the world's oceans, the main sources of the law of the sea, including treaties, customary law and judicial practice and how these elements are put to the test in different contexts, from protecting the marine environment and managing vulnerable species, to regulating deep-sea activities and, crucially, to peacefully resolving disputes between States.
The course is beneficial to anyone with an interest in ocean governance including those working for government (including national and sub-national government), NGOs, legal practice (including law firms and chambers), companies and academia (including students).
Find out more and register online
Comment from past participant
'The whole course was extremely interesting, varied, comprehensive, and well-run'
The following courses are also currently open for bookings:
Course Fees: The fee for each course can be found on the course page along with details of discounts. Course discounts are available for individual members of BIICL and group bookings. BIICL is also delighted to offer 3 scholarships for each of our short courses to participants from communities and backgrounds currently under-represented in the legal community. Find out more about training scholarships.
Find out more about the BIICL training programme and book a place here