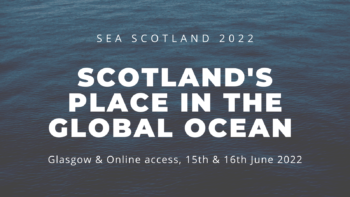 Sea Scotland 2022: Scotland's Place in the Global Ocean
Securing Scotland's Future as a Leader in Ocean Recovery by 2030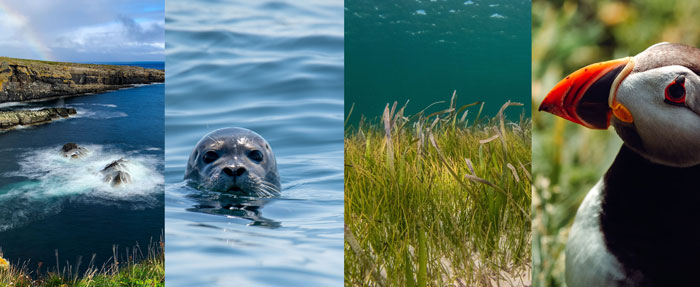 The conference will be running as a hybrid event, with in-person and online sessions on 15th-16th June.
In person: The Studio, Glasgow
Online: main session talks will be live-streamed
A varied programme of talks, workshops and networking opportunities.
The Scottish Government has sought to establish Scotland as an environmental leader on the world stage, not least with its ambitious Climate change targets and commitments to designate 10% of Scotland's seas as Highly Protected Marine Areas (HPMAs) by 2026. With the Climate Change COP in Glasgow 2021 (COP26), the global spotlight is on Scotland.
Scotland's rich natural environment, and the ecosystem services it boasts, such as food provision, protection from storms and mitigation of climate change impacts, is arguably one of its greatest national assets. Scotland's seas cover almost two thirds of the total UK sea area and 13% of all European seas, giving a tangible resonance to Scotland's place in the global marine landscape. However, Scotland's seas are under increasing pressure, and ongoing destruction of marine habitats and ecosystems impair their ability to provide these life-sustaining benefits.
At Sea Scotland 2022, we will explore how Scotland's marine management compares to other maritime nations, and what we can learn from the successes of other nations. We will delve into what needs to happen to make Scotland a global leader in ocean recovery in terms of political ambition, financial investment and practical conservation measures to ensure management of human activity at sea delivers ocean recovery in harmony with a just transition to net zero.
As part of our theme Scotland's Place in the Global Ocean, we will:
Explore the role of marine conservation in Scotland in the global ocean recovery agenda
Reflect on lessons learned from other nations to support dialogue on actions needed for Scotland to rapidly progress ocean-based solutions for climate change mitigation and nature recovery by 2030.
Highlight the opportunities for Scottish authorities and stakeholders to set Scotland's seas on a long-term path for recovery.