CEDA UK October Webinar
Thursday 14th October 2021
at 14:00 – 16:00hrs
Hosted digitally through WorkCast
Marine Aggregates In the UK
Chaired by
Nick Everington
The Crown Estate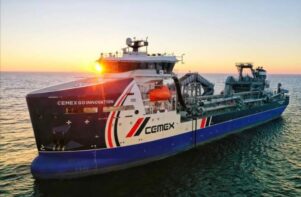 The UK has world class resources of marine aggregates and it has a mature and well regulated industry to manage their extraction. Forming a critical part of the supply chain for building materials in the UK, the industry typically extracts around 20 million tonnes per year. Marine sands and gravel meet around 25% of the demand for sand and gravel in England and Wales and are instrumental in supporting climate resilience through the replenishment of our beaches.
This webinar examines recent developments in the management of marine aggregate extraction, in terms of the assessment of marine mineral resources, the relationship between dredging and our coastline, the way that the industry supports our understanding of marine heritage, and recent innovation in the design of new dredging vessels.

Presentations and Speakers
Marine Aggregate Resources – Developing a High Resolution Model
Caroline Price – Director, Green Ports, Royal HaskoningDHV
Dr Ian Selby – Director, Geoconsilium
Dredging and the Coastline
Dr Andrew Bellamy – Resources Manager, Tarmac Marine Dredging
Recent Innovations in Dredger Design
Joppe Neijens – Sales Manager, North, West and South Europe, Damen Shipyards
Archaeology at Sea; Submerged Prehistory, Reporting and Protocols
Dr Nigel Griffiths – Resources Manager, Hanson Aggregates Marine
…………………………………………………………………………………………………………………
Booking your place – online booking procedure
To book your place at this event please click here
If you require advice or are unable to book yourself on this event please contact: societyevents@ice.org.uk or telephone 0207 665 214.