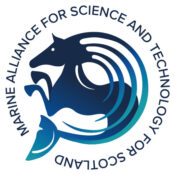 MASTS 11th Annual Science Meeting 2021 programme now available!
Working To Reverse The Tide On Climate And Global Change
Register to join the event here*
5-7th October, online
#MASTSasm2021
Anyone can join*. In 2020, we welcomed over 500 attendees from 28 countries, so be a part of the UK's largest marine science conference this October by registering today!
Download the full programme featuring talk titles and session speakers here
Plenary talks from
Jeff Ardron (Adviser, Ocean Governance, The Commonwealth Secretariat) – The climate crisis is also an ocean crisis
Antony Firth MCIfA (Co-Chair Ocean Decade Heritage Network) – Cultural Heritage and the UN Ocean Decade: applying human time-depth to Ocean Science, Policy and Sustainable Development
Michael Begg (Award Winning Sound Artist, OCEAN ARTic Partnership) – Light Water is Black Water: OCEAN ARTic partnership's creative innovation for public engagement in climate science
Susan Davies (Member of First Minister's Environmental Council, Scottish Seabird Centre CEO) – title TBA
David Pratt & Drew Milne (Marine Scotland) & Prof Tavis Potts (University of Aberdeen) – Tackling climate change with offshore renewables: ambitions in Scotland
Beth Stoker (Head of Marine Monitoring and Evidence, JNCC) – Marine conservation: Working across boundaries
---
Sessions featuring live Q&A on
Seagrass Special: Experiences & Adaptations
Seagrass Special: Innovation & Ambition
The Social Side: Human Dimensions to Ocean Challenges
Aquaculture as a critical pathway to future Net Zero food production in Scotland "Industry Innovations for Net Zero production"
Aquaculture as a critical pathway to future Net Zero food production in Scotland "Net Zero and Food Production"
Multiple Marine Stressors
Fisheries Science Session
And General Science Sessions 1, 2, 3, 4 and 5
---
The annual Society for Underwater Technology's workshop
Decommissioning, Spatial Custodianship and Climate Emergency – How do we achieve joined up policies?
An open to all workshop featuring live Q&A with speakers, hosted within the MASTS Hopin event.
7th October, 09:30 – 17:00.
Access the event flier here
---
Lunch time discussions on Equality, Diversity and Inclusivity in Marine Science sessions
Hosted by MASTS and co-ordinated by the Challenger Society. Both sessions will run from 13:00 – 14:30 via Zoom
5th: A panel discussion about their experience in marine science. Speakers include Madeline Anderson (UKPN), Huw Griffiths (BAS), Donna Frater (NERC), Renuka Badhe (Women in Polar Science).
Sign up link here
6th: Chaired by Ellen Johannesen from the International Council for the Exploration of the Sea (ICES), featuring short talks about individual researchers' case studies and best practice.
Sign up link here
---
and ePosters, exhibition booths and networking throughout
---
See you soon!
MASTS ASM committee
masts@st-andrews.ac.uk
Stay up to date with all things MASTS ASM by following us on Twitter @mastscot or LinkedIn MASTS Scotland
www.masts.ac.uk
*Remember to register for the ASM if you are a speaker or presenter! Discounted student tickets are available. Attendees from ODA Countries are encouraged to contact MASTS regarding our limited free tickets. Receipts will be issued post-event.