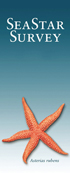 Marine Ecologist / Marine Environmental Consultant and Ecologist  
Seastar Survey Ltd
Seastar Survey Ltd ('Seastar') is an independent marine survey company and consultancy, established in Southampton in 1999.  We specialise in supplying a range of environmental, oceanographic and hydrographic services to both the offshore and coastal industries, and pride ourselves on a positive and flexible approach to all of our clients' needs.  Our aim is to offer an exceptional level of support and services to organisations operating in the marine environment through a combination of experience in marine science and surveying, project management, survey vessel operation, data analysis and the delivery of high-quality technical reports.
Seastar are currently looking to develop and expand and are seeking enthusiastic and dedicated people to join our team in Southampton.  We will provide you with a flexible and friendly environment in which to develop your skills and challenge yourself, with the opportunity to undertake a wide variety of projects for government and commercial clients.
About the role
The roles require experience in the analysis of marine biological data and an excellent knowledge of the species and habitats of the UK.  In addition, successful candidates will be highly detail-oriented, be IT literate and possess excellent scientific written and verbal communication skills.
Key responsibilities will include;
Analysis of marine biological survey data;
Collation, interpretation and reporting of marine biological and/or physical data;
Authoring and QA of technical reports (e.g. EIA, HRA, scoping reports);
Statistical analysis of benthic survey datasets; and
General project management.
Requirements:
Essential
MSc in a relevant technical subject;
Experience of underwater image analysis for benthic ecological purposes;
Good knowledge and understanding of the UK's marine biodiversity, including awareness of the MNCR and EUNIS marine habitat classification systems;
Detail-oriented with excellent written and oral communication, organisational and time management skills;
Strong analytical skills with the ability to process, analyse and interpret large amounts of technical information;
Good IT skills.
Desirable
Three years professional experience in marine consultancy or a technical marine field;
An understanding of UK marine policy, legislation, consenting and environmental issues;
Good practical understanding and experience of statistical analysis of biological data;
Experience of HRAs and Marine Conservation Zone Risk Assessments;
Experience of ArcGIS;
Experience of coastal and offshore environmental survey work.
Terms of employment will be commensurate with the skills and experience of the successful candidate.
To apply, please email your CV and a covering letter to Steven Dewey at sdewey@seastarsurvey.co.uk, quoting 'Application for marine ecologist' in the subject line.
Closing date for applications is midday on Monday 28th October 2019.  Applicants are encouraged not to wait until the closing date where possible.
View the post on our website.
Seastar Survey Ltd. is an Equal Opportunities employer.  All applications are judged on the relevant skills and experience of the candidate only.