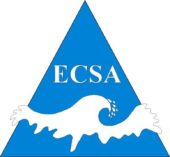 ECSA Focus Meeting
From catchment to coast with an emphasis
on the estuaries and coastal waters of southwest England
31 March to 2 April 2020
At Plymouth Marine Laboratory, Devon
An ECSA Focus meeting will be held at the Plymouth Marine Laboratory, Devon PL1 3DH, UK, between Tuesday 31 March and Thursday 2 April 2020.
2020 is Plymouth's Mayflower 400 anniversary year and Plymouth Sound has just been designated the UK's first National Marine Park.
Some reserved accommodation will be available at the Crowne Plaza Hotel, 10 min. walk from the Laboratory.
The theme will be: 'From catchment to coast with an emphasis on the estuaries and coastal waters of southwest England' and will cover a wide range of topics, including physical processes (sediments, waves and currents), biogeochemical processes (and interactions), ecology, conservation, management and modelling. There will be a session dedicated to the cycling and transport of carbon and nutrients within river and estuarine systems and sessions focussed on the coastal ocean.
The registration fee is anticipated to be £75 with reductions for students and ECSA members. A conference dinner will be an optional extra.
If you would like to present work at the meeting please send a brief abstract (state oral/poster) in Word format (title, authors, affiliations, and text – maximum 250 words) before Friday 1 November 2019 to the ECSA Focus Meetings organiser Andrew Wither at  awith@noc.ac.uk.
A preliminary outline program and registration form will be available in November.
For more information please visit: https://ecsa.international/event/2020/ecsa-focus-meeting-catchment-coast-emphasis-estuaries-and-coastal-waters-southwest.
ECSA is the Estuarine & Coastal Sciences Association. Charity no 264006 registered in England