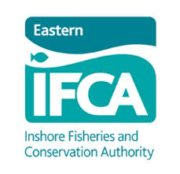 Project Officer
Location: Based in King's Lynn (expected to work across the District)
Hours: 37hrs
Role type: Fixed Term (24 months)
Closing Date: 27th September
Eastern IFCA is the largest of the 10 Inshore Fisheries and Conservation Authorities, responsible for the coastline of Lincolnshire, Norfolk and Suffolk out to six nautical miles at sea. One of its' primary functions is to enforce all relevant fisheries and conservation regulations by using a mixture of legislation, permitting, management measures and voluntary codes of conduct.
An exciting opportunity has arisen for the right person to be appointed to the Project Team to add resource during a period when a high volume of exciting projects need to be completed. The role will involve supporting colleagues in the Marine Protection and Marine Science Teams and will report to the Senior Inshore Fisheries and Conservation Officer (Regulation).
The successful candidate will have the ability to work both independently and as part of the team to strict deadlines. They will also be able to problem solve, to be organised and to prioritise their working day.
Applications from candidates with a background in Marine Science or experience of working in the marine industry, including the fishing industry, would be welcomed.
Appointment is conditional on passing Baseline Personnel Security Standard.
For further information and to apply for this role please visit our website at https://www.eastern-ifca.gov.uk/about/vacancies/ and complete and return the application form to jodihammond@eastern-ifca.gov.uk or an informal discussion regarding the role please contact Luke Godwin on 01553 775321