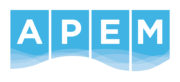 Marine Ecologist
Grades: Senior Consultant / Technical Specialist / Principal Consultant
Salary: competitive based on experience + Benefit Package
Locations: Manchester, Edinburgh, Cardiff, Cambridge, Letchworth & Oxford
APEM Limited is Europe's largest specialist aquatic environmental consultancy. We offer our clients an integrated approach to every aspect of the investigation and management of freshwater catchments and marine habitats and operate UK wide and internationally. Our consultants are recognised experts in their fields, and as a company we pride ourselves on our commitment to scientific rigour and an excellent service in providing solutions to our clients.
We are currently looking for the following grades to join our Marine Consultancy team: Principal Consultant / Technical Specialist or Senior Scientist.
For further information on the role, and for information on how to apply, please visit our website on http://www.apemltd.co.uk/careers/
If you have any queries, please email recruitment@apemltd.co.uk and one of our team will respond to you as soon as possible.
Closing date: Sunday 24th March 2019