CIWEM Environmental Net Gain: Measurement, Delivery and Application
Tuesday 30 October 2018  |  10 – 11 Carlton House Terrace, London |  More Info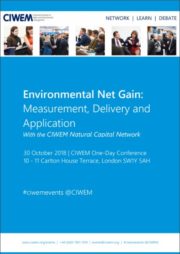 The first action in Government's long awaited 25 Year Environment Plan is to embed the environmental net gain (ENG) principle throughout the planning system to achieve measurable environmental improvements alongside ambitious targets in housebuilding and infrastructure development.
Furthering current aims in the planning system to achieve biodiversity net gains, ENG will aim to enable authorities to implement locally tailored strategies to deliver wider environmental benefits, from reduced flood risk to improved air quality. However, significant concerns have been raised concerning how this approach may operate in practice, with environmental goods at risk of being inaccurately measured and traded, allowing it to become a 'pay to pollute' scheme.
This interdisciplinary event will bring together academics, social scientists and environmental practitioners to discuss current practice of biodiversity net gain and how this could be transformed into environmental net gain including discussion on the metrics that could be used to measure it, how these could be enforced, its practical application on a variety of scales and its potential as a mechanism to encourage private sector investment in green infrastructure.
Hear from: AECOM  |  Balfour Beatty  |  CIRIA  |  Defra  |  Environment Agency 
Environment Bank  |  National Trust  |  WSP  |  WWF and many more.
With sessions on the current status of biodiversity net gain, biodiversity measurement and metrics, and how to put environmental net gain into practice, this conference promises an interactive programme which will bring together professionals and academics from many different backgrounds and initiate necessary discussion on the future of environmental net gain.
Book today to avoid disappointment. Tickets are selling fast, and you have one month left to secure your place! #CIWEMevents

Sponsorship Opportunities
We offer a wide variety of sponsorship opportunities designed to raise your profile with CIWEM's portfolio of events. Sponsorship of CIWEM events provides year-round marketing and advertising opportunities enabling your organisation to reach a global, engaged audience within the water and environment industry.
Please email sponsorship@ciwem.org or call 0207 269 5810 for more info.