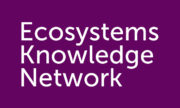 In association with:       

Natural Capital Investment Conference
1st March 2018, British Library, central London
Detailed programme announced:
Over 30 speakers and panellists from the finance and environment sectors 
Hear from experts and innovators in novel finance for natural capital restoration
In-depth sessions on marine, coastal, urban and farmed environments
There is less than one month to go until our Natural Capital Investment Conference on 1st March – the key event in 2018 for professionals working with the environment. Tickets are selling fast. If you haven't booked yet, don't miss out!
This ground-breaking conference will identify the best ways of securing much-needed investment in the UK's natural environment. HM Government's recently-published 25 Year Environment Plan, together with similarly progressive policies of devolved administrations, point to the importance of investing in the environment for wellbeing and prosperity. Organised by the UK-wide Ecosystems Knowledge Network, the conference will be a significant step forward in the quest for new ways of financing the restoration of vital natural features such as woodland and wetland.
Address from Tony Juniper CBE
The Rt Hon. John Gummer, Lord Deben, Chair of the UK's Committee on Climate Change, will provide the opening address.  He will be followed by presentations from environmental and finance leaders including: Bevis Watts, Managing Director of Triodos Bank UK; Shirley Trundle CBE, Director for Natural Environment Policy at Defra; Eric Letsinger, CEO of Quantified Ventures; and Tony Juniper CBE, Executive Director, Advocacy and Campaigns at WWF.
Learn about the opportunities for investment across terrestrial, marine and urban habitats, different types of investment vehicles and how to devise projects which are attractive to investors.
Who is the Conference for?
land owners and managers
local and regional environmental initiatives
impact investors and organisations in the financial services sector
infrastructure businesses
local authorities
public agencies and government bodies
environmental and natural resource consultants
Booking
To find out more and book a place visit https://ecosystemsknowledge.net/naturalcapitalconference
#NatCapInvest18