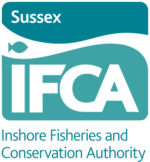 Assistant Fisheries & Conservation Officer
Sussex Inshore Fisheries and Conservation Authority (IFCA)
Shoreham-by-Sea
Contract Type: Temporary – Part time
Grade: Grade 2
Salary: £10,842 (£18,070 per annum pro rata)
Hours of work: 3 days or 22.2 hours per week
Working pattern: Part time
Contract: 6 months Temporary Contract
Closing date: 29th September
The Sussex Inshore Fisheries and Conservation Authority (IFCA) are responsible for managing aspects of the inshore waters off the Sussex coast; the district covers the entire Sussex Coast out to six nautical miles, including the estuaries. The Sussex IFCA has a wide range of duties including the management of the exploitation of sea fisheries resources and the conservation of the marine environment, balancing socio-economic considerations with the need to protect the marine environment. The IFCA is funded by East Sussex County Council, West Sussex County Council and Brighton and Hove City Council.
We are looking to appoint an individual undertake day to day operational activities associated with inshore marine fisheries management. These activities will cover both enforcement and research requirements as defined in operational plans, assisting IFCA officers with compliance, research and administrative activities. The post is intended to enable an individual to develop the skills and experience required in the role of Inshore Fisheries and Conservation Officer.
The temporary position is for a part time role for 3 days or 22.2hrs/week according to Authority requirements.
For more information or an informal discussion please contact Tim Dapling, Chief Fisheries and Conservation Officer or Sean Ashworth, Deputy Chief Fisheries and Conservation Officer on 01273 454407.
It is intended that interviews will be held in the week beginning 9th October.
Click here to download the job description and application form.
Twitter sussex_ifca